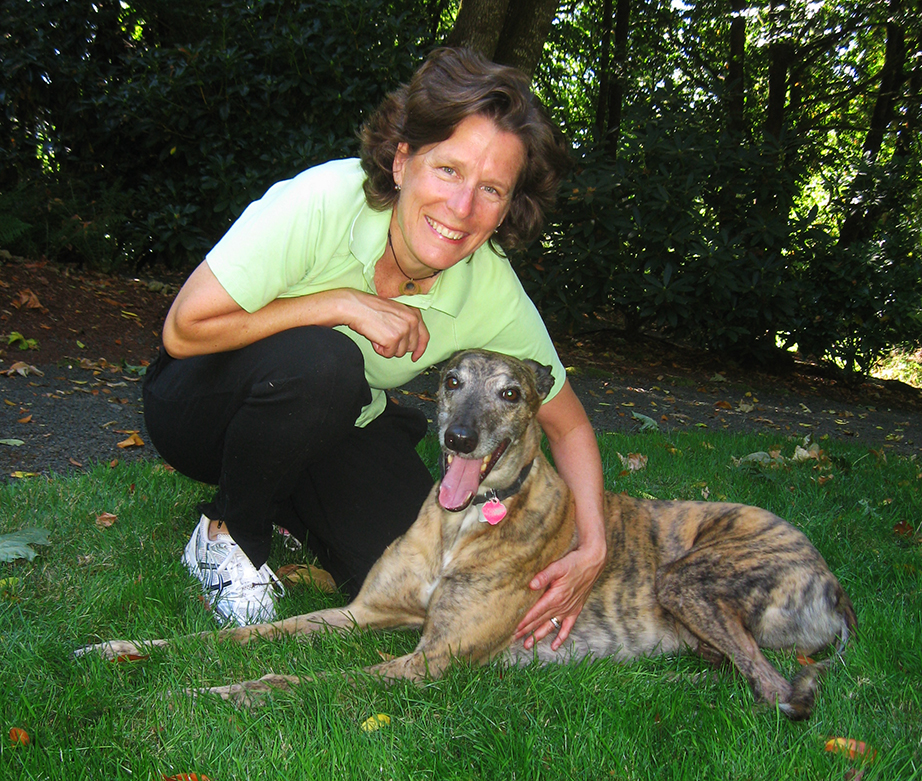 Heidi Cozier MS, PT, CCRT
Certified Canine Rehabilitation Therapist
Heidi has been a certified Canine Rehabilitation Therapist since 2008 and a human physical therapist for over 25 years. She has worked at Back on Track, the largest and first established canine rehabilitation clinic in Portland area as well as owned her own successful canine rehabilitation business in Roseburg, OR.
When she's not working she's hiking, traveling, kayaking, and doing agility with Merlin her Aussie. 
What Makes Cozier Canine Rehabilitation Different?
As a physical therapist, it's important for us to work as a team with your veterinarian. This important for pain management and improving function.
Treatments are also provided in your home. This helps keep your dog more at ease during treatments.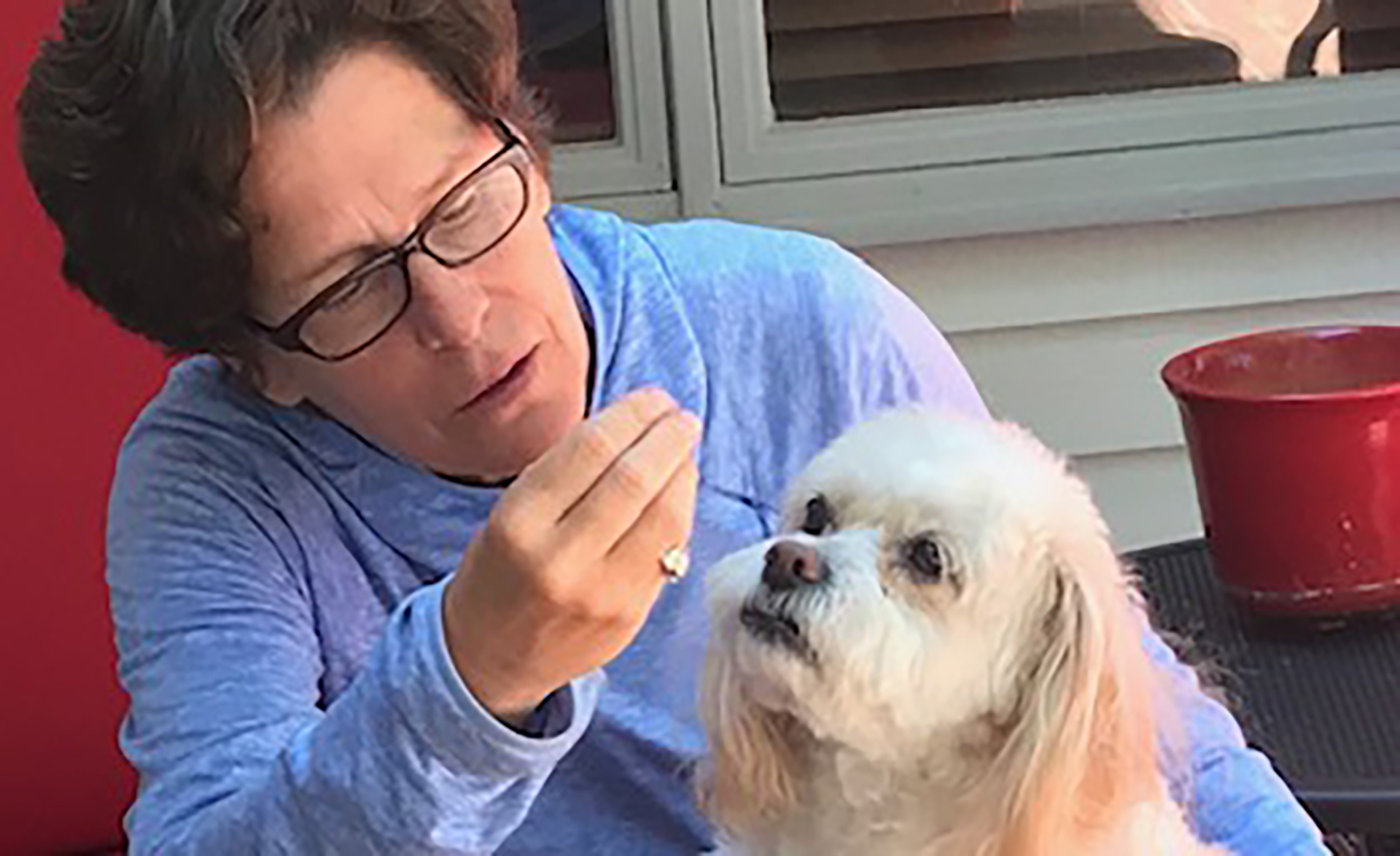 "We were unaware of dog PTs, Heidi gave us hope while interacting with Lollypop on her exercises and treatments.  Unable to move at all to running again on our ranch. Lollypop has been given a second chance. Heidi has the ability to speed and enhance the healing process." —Carol Reeves Woodsman Clumbers, Topsham English Cockers and Irene the Mini Bull
I'm glad we had Heidi come into our home to help rehab Pixie, our Chihuahua. Pixie had spinal surgery to remedy a compressed spinal cord, and the compassion and empathy she showed in the treatment of our little furry delight touched me greatly. The treatments no doubt helped Pixies recovery, to the extent that she is now just about back to normal. If a furry buddy needs rehab, call Heidi. I recommend the visits —David E
"Heidi extended the lifetime of our treasured dog, Hope, by at least a full year with her massage therapy.  She kept Hope's body limber and pain free extending her quality of life significantly. We could see the marked differences in Hope's physical actions with the therapy, love and respect Heidi gave her.  Thank you Heidi." —Dan and Sanna Hern
"I've known Heidi Cozier as a canine therapist, physical therapist, and a friend for over 20 years. Her dedication to her profession(s) is outstanding and admirable. She takes pride in maintaining her knowledge base with the latest techniques and treatments, and has more skills in her toolbox than most. 
Heidi has treated many of my dogs, all with great success. She connects to even the most anxious of dogs, and finds her way into their hearts and their trust. She is patient, thorough, and compassionate. My confidence in her has been validated time and time again. She IS the BEST!!! —Celeste Carico, Bend, OR
A fellow Search and Rescue K9 handler referred my to Heidi this summer when my K9 partner injured her Psoas. This can be a very scary and sometimes career ending injury for a working dog and by the time we made it to Heidi I had been preparing myself for the worse. She evaluated K9 Josie and gave us our first "homework". She is knowledgeable and very intuitive with my girl (Josie). This kind of injury is a long game recovery at best and Heidi has been very supportive for me. I told her what I needed (her to keep me from moving too fast or missing any steps that might result in reinjury) and she has given me exactly that. Josie and I are now in the reconditioning phase and it is a huge relief to have my partner out of pain and running by my side. I have learned tons about how to strengthen and limber up my girl. Josie is more balanced in her body already then she was before the injury. I am very grateful for Heidi's care and knowledge in this process and plan on keeping her part of our lives to keep my partner strong and working at her best. —Rosalyn Smarr
We were devastated when our first bird dog broke his tibia in 3 places and required two surgeries at 4 months old. We were told that he may not able to be a working (actually hunting) dog. Heidi was a gift to be able to come out to our house and help guide us through the recovery phase. Our little guy would not put his leg even close to the ground when he was cleared to be weight bearing until she came into the picture. She has such a talent with dogs and provided us with so many brilliant recovery exercises. We are now confident we have our bird dog back!
11 months later he sprained his OTHER wrist! Anyone who has had a working bird dog understands this energy! Heidi was amazing once again with getting us back on track! These injuries are frustrating and but with Heidi's expertise, we were able to get this guy back to training! My advice to you- don't wait if your pup needs help! —Tracy Halsey
Heidi went above and beyond helping care for our dog while we were out of town and had a sitter. She sent us updates, photos, and provided our sitter with specific instructions for care. It helped us feel more relaxed and enjoy our vacation knowing he had such great care. Heidi was able to provide laser treatment to help promote healing for our dogs ear and she even provided peanut butter to help distract him! We highly recommend Heidi for all of your dog physical therapy needs! She absolutely loves dogs and it's very obvious in all of her interactions. Thank you Heidi! —Michelle Duncan
Heidi has been a great resource for maintaining our dogs ability to live an active lifestyle well into his teenage years. Heidi has provided in home physical therapy (PT) treatments for our pet for about six months. The results of these sessions and the prescribed daily exercises have been huge in keeping our old boy physically comfortable at home and enable him to excitedly continue his lifelong love of hiking and running local trails. As a pet owner, I'm thrilled knowing that pet PT is a real thing. It's been a humane alternative for the health of our dog as Heidi's treatments and advice have definitely improved the quality of his life. I recommend Heidi, if you want the same for your dog(s). —John Erwert
On multiple occasions Heidi has provided excellent care for my young sensitive pup. She's patient, detailed and thoughtful. I appreciate that Heidi provides treatment by consent of the dog. If Jette needed a break or got wiggly, she let her, there was no force. I will continue to use Heidi in my care team when it comes to my dog's wellness. I highly recommend Heidi. —Melodie Buell
Heidi is incredible with dogs....she knows how to meet them in their space, instilling trust in even the most anxious of dogs. Her knowledge about physical limitations or injuries is impressive. I completely trust her with any and all of my pets! —Celeste Carico
Heidi is FANTASTIC!!! When my 10 year old lab/Weimaraner, Kaia, injured her back knee while accompanying me on a mountain bike ride- it looked like a CCL surgery was going to be the 'only' treatment option according to the vet. I was torn because of the cost and the associated risks, but especially because of the required down time (at least a month) after surgery.
I was evaluating options, including a consult with a local specialty veterinary surgery center, but I had also recently met Heidi and she offered to work with me and Kaia to see if we could possibly rehab her without an invasive surgery.... So I took her up on the offer.
Between the manual exercises she demonstrated/taught and the laser therapy, along with an accompanying CBD regimen, I'm ecstatic to report Kaia has recovered! So much so that at her last vet appointment the vet was perplexed at how healthy and healed her knee seemed to be without her having had any surgery.
Heidi is wonderful!!! I would 100% trust and recommend her services to anyone!!! —Ashley Cedzo

Proudly serving Bend and Central Oregon.